En esta oportunidad hacemos referencia en nuestra acostumbrada sección, a un músico nacido en el Bronx de Nueva York, se trata del gran percusionista y maestro del timbal Nicholas Marrero, conocido como Nicky Marrero, de padres puertorriqueños, nació el 17 de junio de 1950 y creció entre maracas, güiros, guitarras y claves, en su nucleo familiar. Dueño de un enorme talento, de joven estudió la batería, pero fue seducido por los sonidos de Tito Puente y Willie Bobo, quienes fueron sus mayores influencias, debutó en la música con un conjunto en la escuela superior llamado Orquesta Caribe.
Considera que su estilo es una mezcla de Tito Puente, William Correa (Willie Bobo), Manny Oquendo y Orestes Vilato. Se dice que su primera grabación fue a los 15 años con la banda de Willie Colón, pero esa grabación no se publicó. Las primeras grabaciones en las cuales participó como timbalero fueron los álbumes El Malo y The Hustler, de Willie Colón, grabados en 1968 para el sello Fania Records en formato de LP. Es de anotar también que previo a estas grabaciones, en el tiempo de las Jam Session de la Alegre All Stars, es invitado a participar en un sencillo titulado Descarga de Dos Pianos con Charlie Palmieri y Louie Ramírez.
En 1968 Nicky Marrero se vinculó a la banda de Eddie Palmieri, ese mismo año hizo parte en la grabación del álbum Champagne, publicado por el sello Tico Records. Ha participado con el maestro Eduardo Palmieri en quince álbumes entre los años 1968 y 2018, la mayoría de ellos muy exitosos como ocurrió con los discos The Sun of Latin Music y Unfinished Masterpiece, con los cuales obtuvieron el premio Grammy de la música Latina.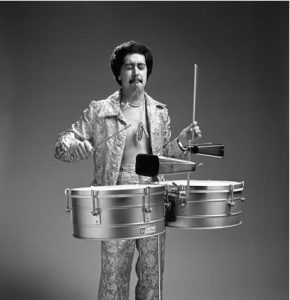 Nicky Marrero es, sin duda, uno de los mejores timbaleros en la historia de la música latina; en el año 1973 sustituye a Orestes Vilato en la famosa Fania All Stars de Pacheco y Masucci, con la cual realizó giras, presentaciones y conciertos tocando el timbal en muchos países del mundo. La gigantesca carrera musical de Nicky Marrero le ha permitido participar en las más importantes grabaciones de Fania; son alrededor de 25 producciones musicales en las cuales ha quedado registrada la huella de su timbal, su bongo y/o su campana con La Fania All Stars.
No solo la música latina y el latín Jazz han contado con la participación del timbalero del Bronx, otros géneros musicales como Jazz, Rock, Funk, Soul, World, Country, Stage & Screen; también han tenido la participación de nuestro portentoso timbalero.
Las más importantes agrupaciones de la música latina, así como los más grandes músicos y cantantes de la Salsa; además de Eddie Palmieri y La Fania All Stars; han contado con la participación del prodigioso músico llamado Nicky Marrero. Para mencionar algunos tenemos a: Ismael Miranda, Willie Colón, Típica 73, Orquesta Novel, Ismael Quintana, Junior González, Cheo Feliciano, Héctor Lavoe, Larry Harlow, Justo Betancourt, Alfredo de la Fé, Alfredo Valdés, Chivirico Dávila, Jimmy Sabater, Lebrón Brothes, Louie Ramírez, Patato Valdés, Daniel Santos, Joe Quijano, Raúl Marrero y Tito Gómez, entre muchos otros.
En esta labor sobre el recorrido musical de nuestro timbalero del Bronx, presentamos una aproximación a su legado musical representado en su extensa discografía, así como un compendio cronológico de sus participaciones principalmente en la música latina, la cual se ha denominado "Salsa", en las últimas cinco décadas.
A continuación, mencionamos algunos de los exitosos temas en los que ha participado Nicholas Marrero en su enorme historia musical, de su inmenso legado recordamos Así Se Compone un Son, Azúcar, Borinquen Tiene Montuno, Canta, Carapacho, Cinturita, El Poeta Lloro, Eso Se Baila Así, Galera Tres, Gracia Divina, Guaguancó En Tropicana, Justicia, Kuku-Cha Ku-Cha ,Las Tres Flautas, Madre, Maestro De Rumberos, Muñeca, No Me Hagas Sufrir, No Me Reganes, Óyelo Que Te Conviene, Pa Bravo Yo, Pa' Huele, Pablo Pueblo, Palo Pa Rumba, Paraíso de Dulzura, Plantación Adentro, Por Que Adoré, Que Lio, Quién Dijo Miedo, Señor Sereno, Soy Vagabundo, Un Día Bonito, Una Rosa Española, Vámonos Pal Monte y un gigante.
Este trabajo sobre el gran Nicky Marrero pretende exaltar la carrera artística de uno de los más grandes exponentes de nuestra música en los últimos cincuenta años, desde este, nuestro sitio en Internet www.bastosalsaradio.com presentamos este material como un pequeño homenaje a uno de los más grandes timbaleros de nuestra música, gracias maestro Nicky Marrero.